DESIGNED FOR ALL-DAY COMFORT
It's time to bring the necessary support and comfort to your game. The choice of the best players and professionals with the highest level of ergonomics. With more comfort and support This ensures optimal weight distribution for long-lasting comfort during gaming sessions.
Designed with different features in mind For ventilation, softest, most durable, beautifully designed with Kevlar pattern decoration. that use quality materials, durable, strong, increase elegant and outstanding
Can be adjusted to fit everyone's welfare Thus reducing the pressure and being able to return to its original condition. In addition, it also has high ventilation properties, helping to dissipate heat well. so there is no humidity
Comes with a plush memory foam head cushion that's contoured and conforms to your unique head and neck shape.
Designed to keep your spine neutral, its lumbar curve is backed by memory foam
For the perfect balance of support and comfort, ensuring optimal weight distribution for the lower body.
Fully customizable positioning ergonomic gaming chair designed for posture-perfect
Provides perfect angle support from 90° up to 180° to suit all your needs.
Synchro mechanisms have a mechanical tilt that moves both the chair's backrest and seat together in a fixed ratio. All synchro mechanisms ensure that the movement of the backrest is greater than the movement of the seat.
Giving you the best sitting posture in the most notural way Provide adjustable tilt for increasing and decreasing tension by matching the body weight of the user without putting fatigue on the musc cs. The chair can tilt from 3 degrees up to 10 degrees in any position.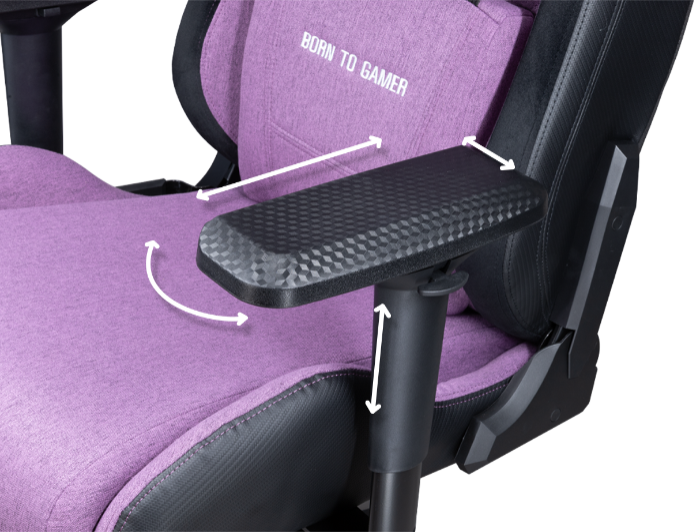 Enjoy fully customizable positioning with armrests
•Adjusted up and down
•Adjusted forwards and backwards
•Adjusted left and right
•Adjusted rotated inwards or outwards.
FRAME STEEL SUPPORTS WEIGHT WELL
Made of good material, strong and durable
UNIVERSAL CASTERS
STRONG DURABLE EASY TO MOVE
360-Degree rotatable caster Feature smoother movement and stable support for your gaming chair so you can move your chair with peace of mind. The stylish design is also an added bonus for your gaming chair.

https://www.youtube.com/watch?v=bW2HePrTiAA&t=305s